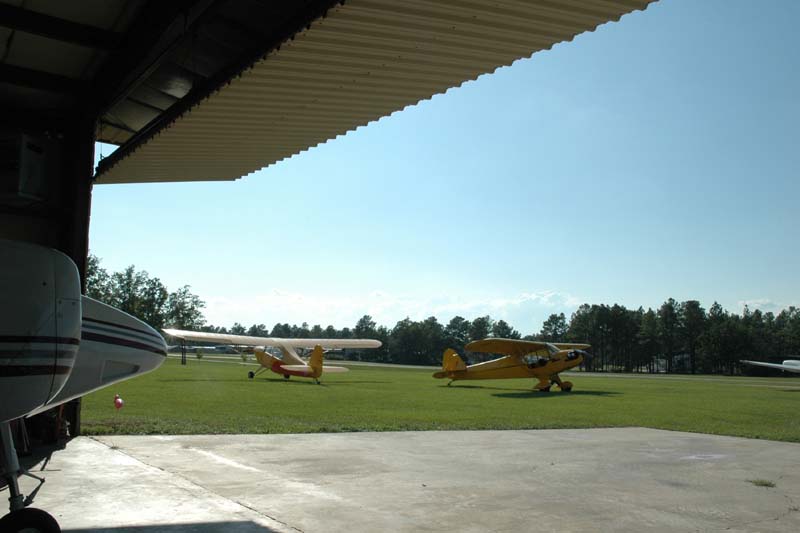 It was a warm summer afternoon in 1960. August 18th, to be exact. I was nine years old. As the cumulus built up puffy balls of cotton in the southern sky, I watched a little airplane fly around and around, making takeoffs and landings at Raleigh Municipal Airport. Sadly, the airport is now the site of a housing development on the south side of Raleigh, NC. Eddie Rickenbacker was at the airport dedication ceremony in 1929. RMA then became the center of aviation activity in the area for decades but by 1960 the commercial airlines had outgrown the facility. Even after the big airplanes left, the three intersecting runways made it a great site for general aviation flight training as you could always find a runway nearly pointing into the wind.
That's what was happening that August afternoon. My Dad was going "around the patch" with his flight instructor, Howard Jones. Dad started lessons on April 14, 1960 with a 40 minute flight in N83204, a 1946 Aeronca 7AC.


First page of Dad's logbook - click on the picture to see a larger image
By August 18 he had over nine hours of instruction. On this day he was flying the same Aeronca, N83204, that he flew on his first flight. After 30 minutes of flying with his instructor, Dad taxied the airplane over to the ramp and Mr. Jones (as I knew him, my Dad taught me that all of my elders were to be addressed as "Mr.") got out of the back seat. He walked over toward me and Dad taxied back to the departure end of the runway.
I watched with a mixture of awe and pride as MY Dad slipped the surly bonds of earth on his own, flying his first solo. My Dad was now a pilot! I remember watching 83204 circling around for his first landing, slipping just enough to manage the descent so that the flying speed bled off at the moment the wheels touched down and started spinning. He went around three more times, logging a total of 15 minutes of solo flight on this most memorable Thursday. I was so happy, so proud of my Dad. He could do ANYthing!


First Solo entry in Dad's logbook - click on the picture to see a larger image
I came back to the airport with him the next Sunday, August 21. He flew just 10 minutes with a different instructor, G. C. Lyons, in N3222M, a Piper PA-12. Then he was off again, flying solo for an hour. I could see him the entire time he was in the traffic pattern, and I never tired of watching the little airplane make the circuit.
I made more trips to the airport with Dad, for he flew as a Student Pilot (not able to carry passengers) for over seven years. I remember one particularly windy day when Dad was having a little trouble adjusting to the gusts. On what must have been the second or third go-around his instructor came out and said "Boys, we're gonna give him one more chance. If he doesn't get it on the ground this time we'll open dove season early."
His logbook shows periods of regular flying interspersed with months of staying on the ground. Dad passed away in 1979 at the young age of 57. I found out from my Mother later that Dad never put his flying before his family. When he felt he couldn't afford to fly, he just gave it up until times got better. That was the way of people who started life during the 20s and 30s. They lived within their means and made sure their family was taken care of first.
Dad was at the airport on my first solo - which occurred on my 16th birthday (October 13, 1966). He helped cut my shirttail and was smiling the whole time.


My first solo. L: Dad cutting my shirt tail. R: My flight instructor, Leary Daniels.
Click on picture for larger image
Over the next year I was building time toward my Private Pilot license (using money I had made cutting grass) and Dad realized he needed to get busy or I would pass him and get the Private rating before he did! On November 9, 1967 he passed his Private Check Ride under the demanding eye of Designated Flight Examiner W. S. O'Neal. In March of 1968 I took Mr. O'Neal on my Private Check Ride and come home with the coveted ticket.


Dad's logbook showing his Private Pilot check ride - click on the picture to see a larger image
I continued my flying for about four years while I was in high school and college. Flew mostly when I could convince three other guys to kick in $4 each to split the $16/hour (wet) rental for a Cessna 172. Then in 1971 I graduated from college, got a job, got married, went into Basic and AIT for the National Guard, came back, and moved to Wilmington - all in the space of 7 months. With so much going on in my life flying took a back seat.
Working for the telephone compnay, I moved to Asheville in 1974 and then to Charlotte in 1976. In 1980 I took a different job within the company and one of my employees was a guy named Larry Morris. Larry had started flying RC planes years before, caught the flying bug, and got his Private rating. He was a vet so the GI bill helped with subsequent ratings and by the time I met him he was a CFI. He got me back up in the air and got the rust off for my "second solo" at Brockenbrough Airport in 1980. I've been flying fairly regularly ever since. Larry is now a CFII, MEII, Designated Pilot Examiner and remains my friend, instructor, and mentor.
In 2009 I started researching Dad's logbook entries, trying to track down the airplanes he flew. I've had some success, and the most interesting story is around NC83204, the 7AC he soloed in. This airplane was restored about 15-20 years ago by Ken Grimes, a local Charlotte pilot who I met while flying at Brockenbrough. He won Grand Champion with the restoration at Camden and the airplane caught the eye of a guy from Georgia. Ken sold the Champ to him and it was put on display in his hangar, hung from the ceiling. There it stayed until July 2009.
He took the airplane down, cleaned it up, put a new carburetor on it, and took it up for the first time in a couple of decades on Saturday, August 22, 2009. I had just talked to him by phone the day before.On Sunday afternoon the 23rd Dale (co-owner of our 172 we had at the time) and I flew down to SC to see 83204.
It is in showroom condition. The current owner said the compression checked out 80/80 in all four cylinders and she does purr like a kitten. Ken did a remarakable job on the restoration. He even had a five-laminate prop made for it to match the original, even though the current Sensenich props have more laminates.
How many people have a chance to touch the airplane their father flew on his first solo 49 years (and 4 days) before? It was an emotional experience. To touch the fabric, to sit in the seat where he sat, to feel the controls in my hand and imagine what it must have been like for him on that August afternoon...the memories came and transported me back to the age of nine. Flying has always been a connection to my Dad that has kept his memory warm in my heart over the thirty years since his passing. When I pushed the throttle forward in the Cessna 150 on my "second first solo" at Brockenbrough I strongly felt his presence in the cockpit with me. So it has been on several times since, especially when I am around the classic taildraggers that make up so many entries in his logbook.
Below are some pictures of my reunion with 83204, as well as a few pictures of other airplanes Dad flew. Enjoy.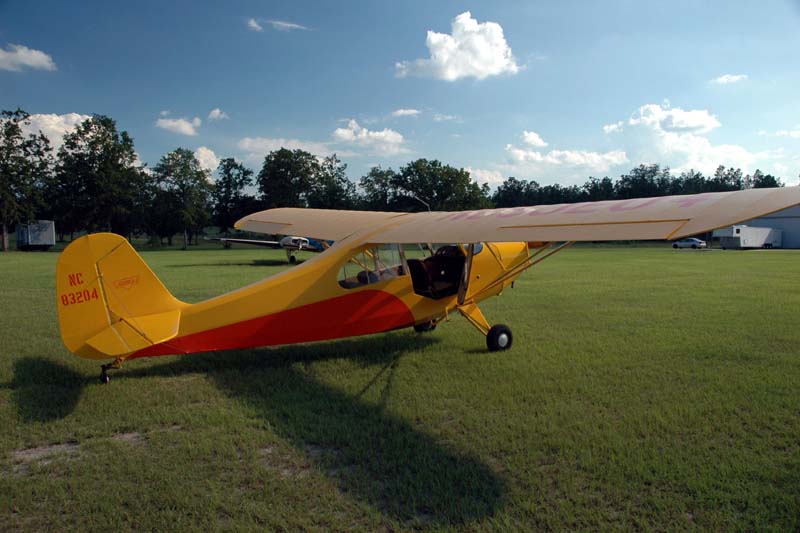 NC83204, a 1946 Aeronca 7AC "Champ"
Flown by my Dad for his first lesson (4/14/1060) and his First Solo (8/18/1960)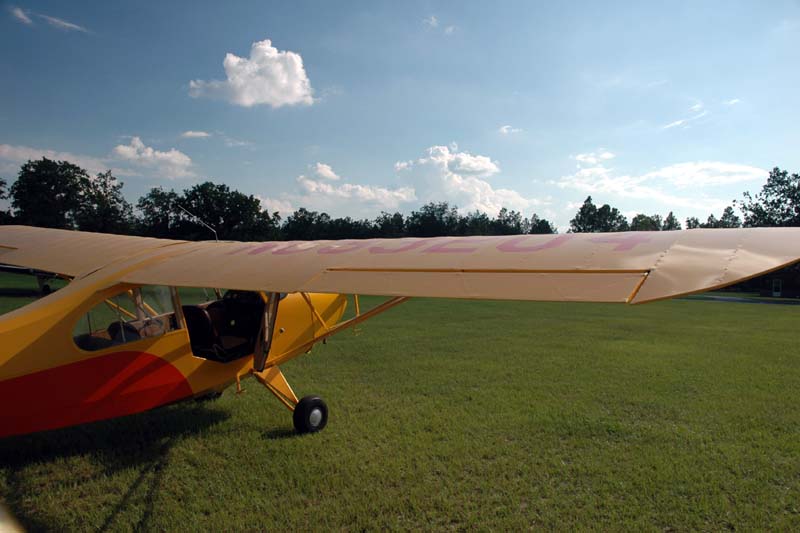 Perfect work on the fabric covering. The restoration is immaculate.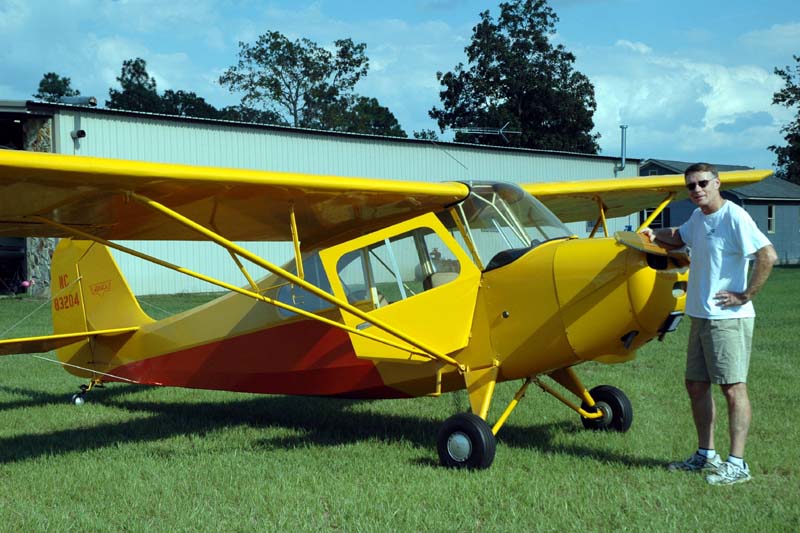 I could imagine Dad standing in the exact same spot. Unfortunately, we didn't carry cameras around in 1960, so I have no pictures of Dad with 83204. Just memories